Matinee Idylls
Victor Provost: Steelpan Rhythms & Melodies
Wednesday
,
Mar.
01
at
1:30 p.m.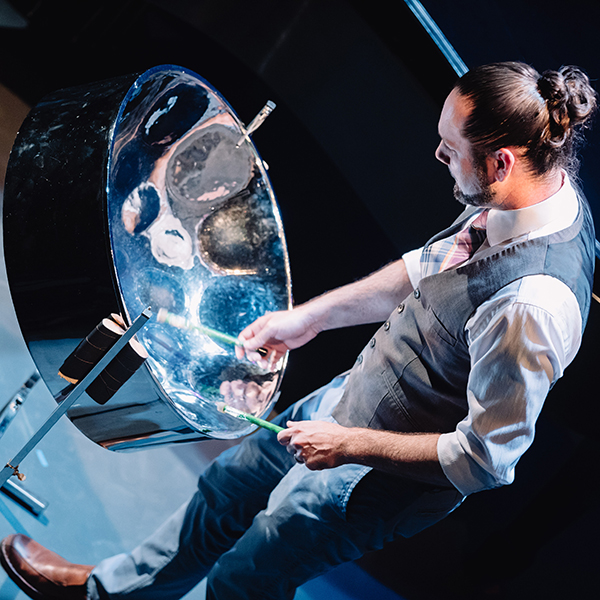 Steelpanist Victor Provost presents an eclectic repertoire of music including Folk music of South America and the Caribbean, European Classical Music, American Jazz, and original compositions. Provost, a George Mason University adjunct professor in the Dewberry School of Music, is widely regarded as one of the world's leading voices on the unique, and often misunderstood, steelpan. With a reputation as a "dazzling" soloist, Provost is known for his impressive improvisational voice and style. With a strong foundation in Bebop, a contemporary sensibility, and deep roots in Caribbean music, he seamlessly melds and mixes genres.

Sales for the lunch option end at noon the Monday before the performance. Concert tickets may be purchased in-person up until the performance time.

Tickets:
Lunch, concert, and dessert reception: $60; Lunch starts at 12:30 p.m.
Concert and dessert reception-only: $35; Performance starts at 1:30 p.m.

Performances take place in the Gregory Family Theater. Lunch begins at 12:30 p.m.
MENU:
Two Hearts Beet Salad
Beets, Hearts of Palm, Sugared Walnuts, Cranberry Goat Cheese, Red Onion, Baby
Spinach, Field Greens, Mustard Vinaigrette
Parmesan Chicken with Balsamic Butter
Parmesan Crusted Chicken baked and topped with a mouth-watering Balsamic
Butter Sauce
Beef Medallions Bordelaise
Tender Beef Medallions topped with a rich Bordelaise Sauce accented with
Mushrooms
Broccolini, Green Beans, Asparagus and Roasted Tomatoes
Herbed Fingerling Potatoes
FREE TICKETS FOR MASON STUDENTS
A limited quantity of free student tickets will be available two Tuesdays prior to the event.
Learn more.
2022-2023 Hylton Performing Arts Center Season Sponsor: