Veterans and the Arts Initiative: Ukulele Workshop Series Spring 2021 Level II
| | | |
| --- | --- | --- |
| When/Where | Tuesday, Feb 09, 2021 8:00pm | Virtual Event |
| | Tuesday, Feb 16, 2021 8:00pm | |
| | Tuesday, Feb 23, 2021 8:00pm | |
| | Tuesday, Mar 02, 2021 8:00pm | |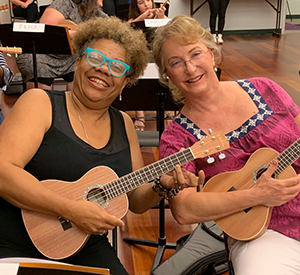 Have you always wanted to try the ukulele? Musicians of all skill levels are invited to participate in a four-week series of virtual lessons with Glen McCarthy, a guitar instructor at George Mason University. These teleworkshops will take place Tuesday evenings, and are FREE to Veterans, Servicemembers, their families, and military caregivers – as well as current healthcare workers.
We encourage you to reference our information sheet for details, including the minimum age of participation for military family members and community policies for online workshops. We will provide more information about the online platform by email to all registered participants. 
Learn more about the Hylton Center's Veterans and the Arts Initiative  
Creative Forces®: NEA Military Healing Arts Network, an initiative of the National Endowment for the Arts in partnership with the U.S. Departments of Defense and Veterans Affairs and the state and local arts agencies. The initiative seeks to improve the health, wellness, and quality of life for military and veteran populations exposed to trauma, as well as their families and caregivers. Administrative support for the initiative is provided by Americans for the Arts and the Henry M. Jackson Foundation for the Advancement of Military Medicine.