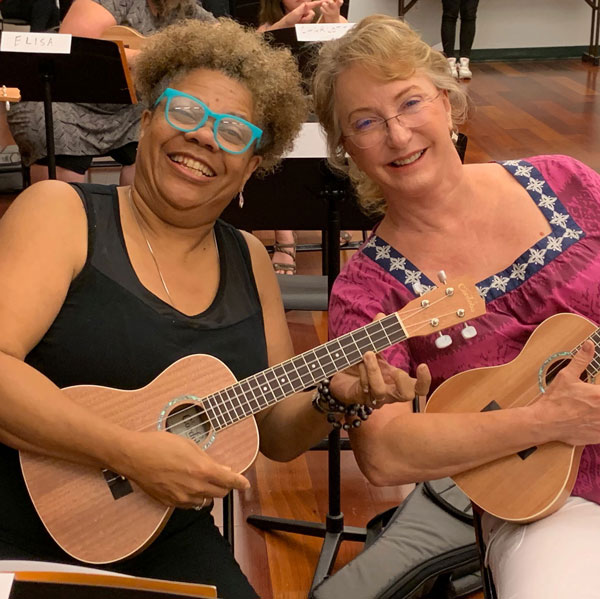 Veterans and the Arts Initiative: Ukulele Workshop Series Fall 2021
Tuesday, Sep 14, 2021 7:00pm
Tuesday, Sep 21, 2021 7:00pm
Tuesday, Sep 28, 2021 7:00pm
Tuesday, Oct 05, 2021 7:00pm
Tuesday, Oct 12, 2021 7:00pm
Tuesday, Oct 19, 2021 7:00pm
Tuesday, Oct 26, 2021 7:00pm
Tuesday, Nov 02, 2021 7:00pm

Hylton Performing Arts Center, Lg Rehearsal Hall, Science and Technology Campus, Virtual Event
Registration for this workshop has now closed.
At the end of the series, we will also offer a bonus workshop! If you have always wanted to sing and play the ukulele - but aren't feeling quite ready, get tips on how to improve your singing technique and your confidence in a bonus workshop on Zoom November 2. The bonus workshop will be co-led by Adiza Jibril, professional singer with The United States Army Band "Pershing's Own" since 2013. Jibril also provides musical leadership at the Fort Myer Memorial Chapel for multiple denominations.
These workshops will take place Tuesday evenings, and are FREE to Veterans, Servicemembers, military family members, and military caregivers. Please reference our information sheet for details, including minimum age of participation for military family members and community policies. We will provide more information about the online platform by email to all registered participants.
Registration for this workshop is now closed.
What to Expect for In-Person Veterans and the Arts Initiative Workshops/Classes:*
Face coverings are required indoors for all visitors and on-site workshop participants.

All participants must complete the Mason COVID Health Check before arrival. Take the Health Check.

*Please note, you may have received a recent communication from the Hylton Center regarding a new attendance policy requiring proof of vaccination against COVID-19 or negative COVID-19 test results. That policy pertains to indoor performances and events, but does not include ongoing workshops or classes. Procedures for attending Veterans and the Arts Initiative workshops will NOT change at this time.
Learn more about the Hylton Center's Veterans and the Arts Initiative