Veterans and the Arts Initiative: Dominion Energy Veterans Guitar Workshop Series Spring 2021, Level I
| | | |
| --- | --- | --- |
| When/Where | Tuesday, Mar 09, 2021 6:00pm | Virtual Event |
| | Tuesday, Mar 16, 2021 6:00pm | |
| | Tuesday, Mar 23, 2021 6:00pm | |
| | Tuesday, Mar 30, 2021 6:00pm | |
| | Tuesday, Apr 06, 2021 6:00pm | |
| | Tuesday, Apr 13, 2021 6:00pm | |
| | Tuesday, Apr 20, 2021 6:00pm | |
| | Tuesday, Apr 27, 2021 6:00pm | |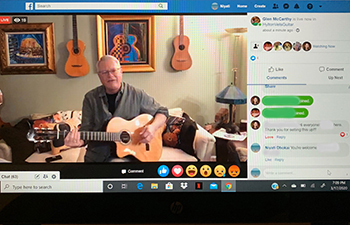 Have you always wanted to try the guitar, or are you looking for tips to improve your technique? Musicians of all skill levels are invited to participate in an eight-week series of virtual lessons with Glen McCarthy, guitar instructor at George Mason University. These teleworkshops will take place Tuesday evenings, and are FREE to Veterans, Servicemembers, their families, and military family members.
A Q&A with Glen McCarthy for Level I is also offered from 7 - 7:45 p.m.
Please reference our information sheet for details, including minimum age of participation for military family members and community policies for online workshops. We will provide more information about the online platform by email to all registered participants. 
Learn more about the Hylton Center's Veterans and the Arts Initiative