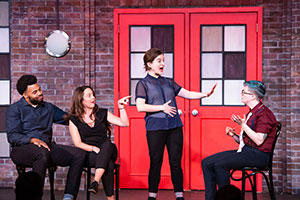 Buy Tickets   Subscribe and Save
Greatest Hits (Vol. 59)
There is nothing quite like live sketch comedy, especially when it's performed by the renowned satirists of The Second City. Prepare for laugh-out-loud entertainment that zings with spontaneity and good fun. For 60 years, the hilarious troupe that inspired Saturday Night Live and Whose Line is it Anyway? has defined social and political satire and launched the careers of superstars like Tina Fey, Stephen Colbert, Steve Carell, Julia Louis-Dreyfus, Keegan-Michael Key, Bill Murray, and so many more. Witness the newest crop of improvisational comics performing the Windy City's iconic brand of side-splitting spoofs and songs in their latest show Greatest Hits (Vol. 59). "The entire recent tradition of American satire can be summed up in three words: The Second City," (The New York Times).
May contain Adult or Mature Content
After The Second City, join us at 10 p.m. in the Gregory Family Theater for a free, lively After Hours Improv session, featuring George Mason University's premier improv troupe, The Mason Improv Association. Enjoy hilarious sketches and playful parodies as this talented troupe takes fun ideas from the audience and puts its refined and spontaneous comedic abilities on full display.  Beverages and snacks available at bar for purchase.
Tickets: $46, $39, $28
A pre-performance discussion begins one hour prior to the performance in Merchant Hall.
Individual tickets go on sale August 1.
Free student tickets will be available two weeks prior to this event.