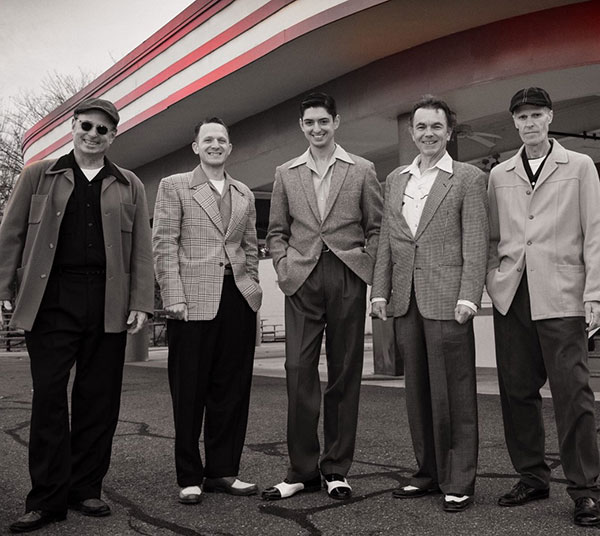 Hylton on the Hill
The Rock-A-Sonics
Saturday, Jun 12, 2021 4:00pm

Beacon Hall, 1011, Pre-function Lobby, Science and Technology Campus, Hylton Performing Arts Center, Science and Technology Campus, West Side Campus Field and Hill, Science and Technology Campus
Tickets will be available to the general public March 18 at 10 a.m. ET.
Slip into your blue suede shoes and travel back in time to 1957 when the King was perfecting his lip snarl and hip swivel. The Rock-A-Sonics play a versatile mix of old-school Rockabilly, vintage Country, and piano-pounding Rock 'n' Roll. Led by the gifted, young Willie Barry (vocals, guitar), the quintet includes Eric Hurtt (electric guitar, vocals); Louie Newmyer (upright bass, vocals); Tommy Bowes (drums, vocals); and Kim Reynolds (piano, steel guitar, saxophone). This band is right at home on an outdoor stage, having appeared at car shows, swing dances, clubs, and street festivals throughout the mid-Atlantic. They've appeared nationally at the Viva Las Vegas rockabilly weekender, the New England Shake-Up, and the Nashville Boogie, as well as countless local appearances in the national capital region. Get ready to dance on the Hill (in your own seating circle, of course) with The Rock-A-Sonics.
$25 adult, $12.50 Youth through Grade 12
How to Watch
Enjoy this performance in your own seating area, physically distanced from other audience members.
Free Tickets for Mason Students
A limited quantity of free student tickets will be available for each event. Eligible Mason students should log onto
Mason360
to claim their tickets beginning two Tuesdays prior to the event.
All performances including the program, artists and dates are subject to change.