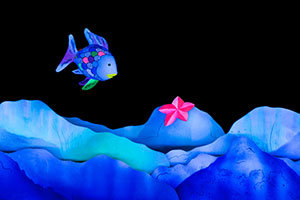 Buy Tickets   Subscribe and Save
Mermaid Theatre of Nova Scotia
Dive under the sea into the shimmering and colorful world of The Rainbow Fish with this heartwarming stage adaption of Marcus Pfister's treasured storybook as well as two of his companion tales Rainbow Fish Discovers the Deep Sea and Opposites. The story sparkles on stage with the many colors of courage, opposites, decision-making, and friendship. This performance is lovingly brought to life by the Mermaid Theatre of Nova Scotia, recognized for its innovative puppetry, striking scenic effects, and evocative original music. The Rainbow Fish will captivate the whole family and is perfect for encouraging a love of both theater and quality literature.
* The 4 p.m. performance is sensory-friendly and will be performed with accommodations to be welcoming for all people with autism or other disabilities that create sensory sensitivities. 
Join us in between performances from 2 - 4 p.m. of The Rainbow Fish for our free Family Open House in celebration of our new Education and Rehearsal Wing. 
Enjoy interactive, family-friendly activities featuring:
Live music by Parent's Choice Awards recipient: Hot Peas 'N Butter founder, Danny Lapidus 
A special The Rainbow Fish-themed art project, plus other arts and craft stations
Face painting by Edgemoor Art Studio
Community Arts Partners
Mason Community Arts Academy Instrument Petting Zoo
A chance to win tickets to the April 26 Hylton Family Series performance of The Okee Dokee Brothers
An opportunity to explore the new Wing
Broadway Princess Party's Unleash Your Inner Princess Contest info table
Hylton Center swag and snacks
Tickets to The Rainbow Fish are not required to attend the Family Open House.
Recommended for ages 2 to 8
$15 adults; $10 children
Individual tickets go on sale August 1.
Free student tickets will be available two weeks prior to this event.
All patrons must have a ticket. For Hylton Family Series only: Children under the age of two who are held by an adult and do not occupy a seat may receive a lap ticket free of charge.
View the Rainbow Fish Study Packet