The Queen's Cartoonists
Presented By
Hylton on the Hill
When/Where
Sunday, Oct 18, 2020 6:30pm
Hylton Performing Arts Center, Science and Technology Campus, West Side Campus Field and Hill, Science and Technology Campus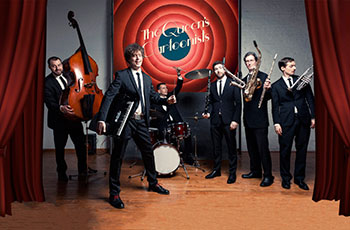 Update: The Queen's Cartoonists performance start time has been moved to 6:30 p.m. to accommodate the screen projections. The Hylton on the Hill venue and parking area will open one hour before performance time.
With virtuosic musicianship, multi-instrumental mayhem, and large doses of comedy, The Queen's Cartoonists will change the way your family sees (and hears) the Sunday funnies. Join them for a live outdoor concert on the Hylton on the Hill and hear this fun-loving sextet from Queens, New York, perform favorites from classic cartoons and contemporary animation set to video projections of the original films. Buoyed by a shared love of classical music and animation, the ensemble was formed in 2015 and designed a concert experience for everyone to enjoy—regardless of age, musical knowledge, or previous concert attendance. If you can't hear the familiar chords of Rossini's The Barber of Seville without picturing a big-eared, rascally rabbit, this is the concert for you! "As I watched The Queen's Cartoonists slip and slide through decades of cartoon music in a matter of minutes…I followed a captivated crowd of young and old consciously connect what they were watching with what they were hearing. The pleasure of the perfect synchrony of sound and pictures was instantly recognizable," (Mashable).
Enjoy these performances in your own seating area, physically distanced from other audience members. The maximum audience size is 200. Complete information about what to expect when you attend an event at Hylton on the Hill: https://hyltoncenter.org/outdoor-performances
View the The Queen's Cartoonists playbill
Special Offer!
The continued success of the Hylton Center relies on your support — this year more than any other — as we are projecting a significant revenue shortfall due to the pandemic. Join the Friends of the Hylton Center by October 19 and receive an album download from one of our three Hylton on the Hill artists. 
$30 adults, $15 youth
Limited free tickets for Mason Students are available.
All performances including the program, artists and dates are subject to change.
The Hylton Center will be collecting donations for Northern Virginia Family Service's SERVE Resource Center at this Hylton on the Hill outdoor performance.  Please help us support our community! Learn more about how to participate.
All performances including the program, artists and dates are subject to change.
Thank you to our sponsor: