Technical Theater Boot Camp
| | | |
| --- | --- | --- |
| When/Where | Monday, Jul 15, 2019 9:00am | Hylton Performing Arts Center, Merchant Hall, Science and Technology |
| | Tuesday, Jul 16, 2019 9:00am | |
| | Wednesday, Jul 17, 2019 9:00am | |
| | Thursday, Jul 18, 2019 9:00am | |
| | Friday, Jul 19, 2019 9:00am | |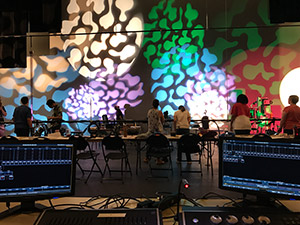 **Application deadline July 11, 2019.**
July 15 to 19, 2019, 9:00 AM - 4:00 PM 
Fee: $425: Ages 15 and up 
In one week, learn about technical production from the professional staff of the Hylton Performing Arts Center and guest instructors. 
Topics covered include:
• Essential skills of technical production.
• Rigging and fly system operation to fly drops and drapes, and other scenic elements
• Basics of stage lighting and hanging, focusing, and programming light fixtures
• Setting up audio visual equipment such as mics, monitors, and projectors, and proper operation for reinforcement and effects
Successful completion of the Technical Theater Boot Camp earns a Certificate of Technical Theater Training and qualifies the holder for consideration for future select crew assignments at the Hylton Performing Arts Center.
For more information, email Susan Landess at slandess@gmu.edu or call 703-993-9344. Scholarships are available from Performing Arts for Kids (PAK).