Russian National Ballet: The Sleeping Beauty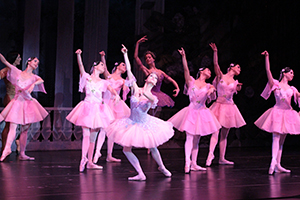 Buy Tickets   Subscribe and Save
Experience the pageantry and elegance of classical ballet with the Russian National Ballet's production of The Sleeping Beauty. The whole family will be charmed by this age-old tale of the redemptive power of true love. When the evil fairy Carabosse isn't invited to the royal christening of Princess Aurora, she attends anyway and casts a spiteful curse upon the baby: on her 16th birthday, she will prick her finger and die. However, the kind fairy Lilac alters the spell causing the princess to sleep for 100 years until awakened by the kiss from a prince. Under the direction of the legendary Bolshoi principal dancer Elena Radchenko, the company brings this well-loved fairytale to life with exquisite skill, lush sets, and opulent costumes.
Summon your inner princess for this special night at Russian National Ballet's lavish production of The Sleeping Beauty! Bring along the royal court in your life to share the experience--groups of 10 people or more can save up to 20% off regular ticket prices. 
Featuring:
A princess-themed cocktail available for purchase
Royal photo booth to capture the moment
Pre-performance discussion with a company member
Russian National Ballet also performs at the Center for the Arts on George Mason University's Fairfax campus on Saturday, March 7 at 8 p.m. (Romeo and Juliet) and Sunday, March 8 at 2 p.m. (Cinderella).
This performance is family friendly.
$55, $47, $33
A pre-performance discussion begins in Buchanan Partners Art Gallery one hour prior to the performance.
Free student tickets will be available two weeks prior to this event.