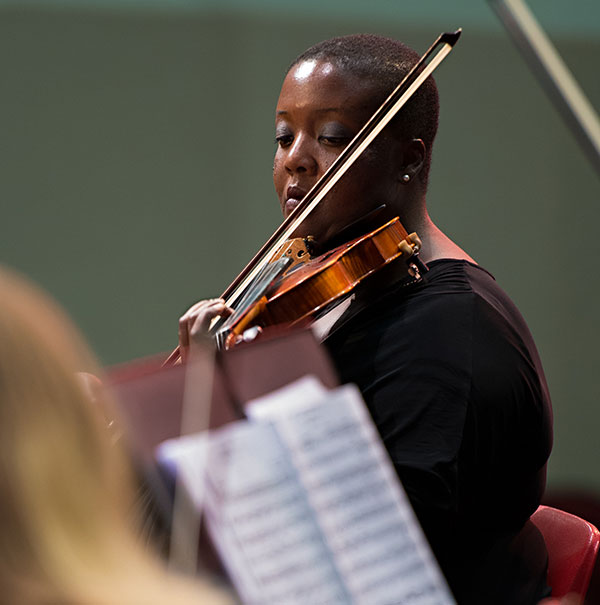 Hylton at Home
Old Bridge Chamber Orchestra
Thursday, Jun 17, 2021 7:15pm

Virtual Event
Allow Us to Reintroduce Ourselves – We're OBCO
The Hylton Performing Arts Center is pleased to announce Community Arts Spotlight, a new initiative which showcases extraordinary artistic talent within the Prince William County cultural community. Old Bridge Chamber Orchestra is a member of the Prince William County Arts Council and is one of four ensembles selected and featured in digital presentations as part of Hylton at Home.
Old Bridge Chamber Orchestra ("OBCO") invites the audience to meet (or re-meet) the orchestra as it tells its story through music and spoken word. OBCO will perform Mozart's "Impresario Overture," the Third Movement of Haydn's "Trumpet Concerto," featuring Nick Nichols (an instrumentalist with the Old Guard Fife and Drum Corp), and the Second Movement of Schubert's "Symphony No. 8 - Unfinished." Spoken word narration by poet Olivia Hajioff, a member of the violin/viola duo, Marcolivia, will weave these three pieces together while highlighting the various sections of the orchestra and sharing the tale of this little orchestra that could … pandemic or not.
Old Bridge Chamber Orchestra is an all-volunteer ensemble established in 1998 by musicians dedicated to providing wonderful, low cost or free concerts in greater Prince William.  In addition to its orchestral offerings, OBCO makes its musicians available for community and private events.  Learn more about Old Bridge Chamber Orchestra's auditions, performance schedule, and how to support the organization.
FREE  
How to Watch

This event will be available to watch beginning Thursday, June 17 at 7:15 p.m. ET simultaneously on this webpage, the Hylton Center
Facebook
page, and
YouTube
channel.