Hylton Presents
National Symphony Orchestra of Ukraine
Sunday
,
Feb.
25
at
2 p.m.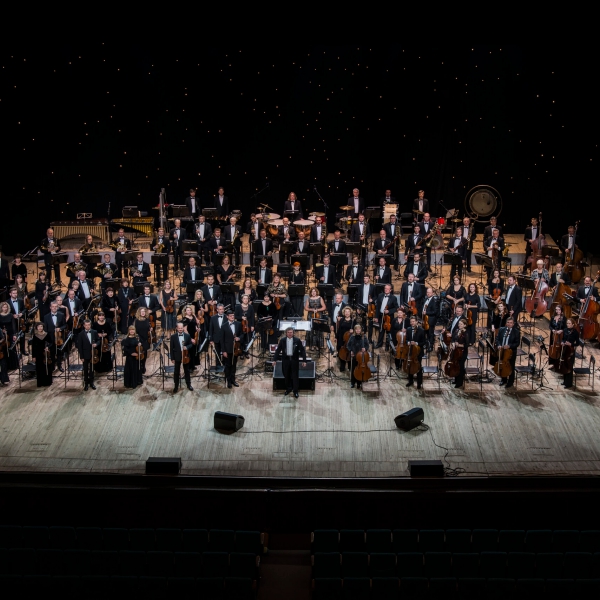 Volodymyr Sirenko, conductor
Natalia Khoma, cello
Bortniansky: Overture to Il Quinto Fabio
Schumann: Cello Concerto in A minor, Op. 129
Brahms: Symphony No. 2 in D major, Op. 73
Since its formation in 1918, the Kyiv-based National Symphony Orchestra of Ukraine (NSOU) has been one of the most distinguished orchestras in Eastern Europe. In 2024, the official orchestra of Ukraine returns for its first tour in the U.S. since conflict in its country began. GRAMMY Award-winning Ukrainian conductor Volodymyr Sirenko leads the orchestra along with internationally renowned cellist Natalia Khoma. The program opens with a charming and uplifting work from the Classical era by Ukrainian composer Dmitry Bortniansky. Before closing out with Brahms' cheerful Symphony No. 2, sometimes called his "Pastoral" symphony, the concert continues to celebrate Ukraine's artists with Natalia Khoma performing Robert Schumann's Cello Concerto. The first and only Ukrainian cellist to have won at the prestigious Tchaikovsky Competition, Khoma has since distinguished herself as a recitalist and soloist with orchestras throughout the world. "Natalia … engulfs the instrument, leans on it, and somehow puts it under a spell so that it becomes her own heart and soul uttering all manner of emotion" (Charleston Today). Witness Khoma's artistry alongside Maestro Sirenko and the National Symphony Orchestra of Ukraine in their momentous return to the Hylton Center.
"The NSOU team remains true to our country and our people by continuing our creative efforts in the face of adversity," –National Symphony Orchestra of Ukraine.
This performance is appropriate for all ages.
Tickets: $60, $51, $36; half-price for youth through Grade 12
PERFORMANCE PROGRAM
The program for this performance will be available the week of the event.
View digital program.
BEFORE THE PERFORMANCE
A pre-performance discussion begins one hour prior to the performance.
FREE TICKETS FOR MASON STUDENTS
A limited quantity of free student tickets will be available two Tuesdays prior to the event.
Learn more.
2023-2024 Hylton Performing Arts Center Season Sponsor: