Natalie MacMaster & Donnell Leahy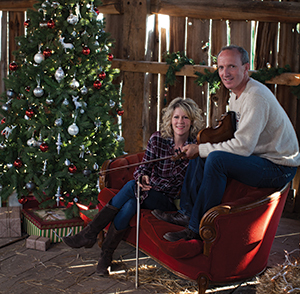 Buy Tickets   Subscribe and Save
A Celtic Family Christmas
This musical powerhouse couple opens a window into their festive family traditions with a rollicking afternoon of Celtic music, lively step dancing, and heartwarming family stories. Cape Breton's own Natalie MacMaster and Donnell Leahy, along with their seven children, showcase their abundant talents in A Celtic Family Christmas where they bring their homey Christmas celebrations to the stage. A superstar in the Celtic music world, fiddler and step-dancer MacMaster has built a thriving career with her electrifying playing and live performances. Her husband, Donnell, is also a renowned solo fiddler, formerly the front man for the acclaimed family group, Leahy. The entire family joins together to create music with both traditional and contemporary Celtic influences. Enjoy a toe-tapping, hand-clapping time as they perform their favorite carols and original compositions in this spirited celebration of music, dance, and holiday fun!
This event is family friendly.
$55, $47, $33
A pre-performance discussion begins in Merchant Hall one hour prior to the performance.
Individual tickets go on sale August 1.
Free student tickets will be available two weeks prior to this event.
Hylton Presents Holiday Performance Series Sponsor: Insight Wealth Management.