Hylton Presents
Metropolitan Jazz Orchestra
Saturday
,
Jan.
27
at
8 p.m.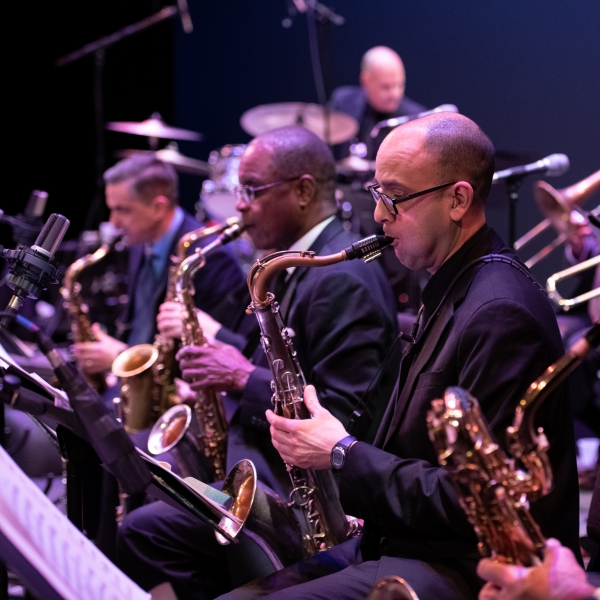 Carnival Celebration
Jim Carroll, artistic director
Celebrate Mardi Gras early with Northern Virginia's own Metropolitan Jazz Orchestra in Carnival Celebration: Music from New Orleans to Rio to the Islands. Dress up in your Mardi Gras beads, don a mask, and enjoy a lively night of pulsating rhythms, upbeat parade brass, and plenty of improvisational jazz. Our tour guides for this concert will be George Mason University's very own Mason Jazz Faculty: Professor Graham Breedlove from Lafayette, Louisiana; Argentinian Dr. Juan Megna by way of Sao Paulo, Brazil; and Professor Victor Provost, born and raised in St. John, Virgin Islands. Led by Founder, Artistic Director, and virtuoso saxophonist Jim Carroll, the Metropolitan Jazz Orchestra comprises the most remarkable jazz performers in the metro region.
This performance is appropriate for all ages.
Tickets: $48, $41, $29; half-price for youth through Grade 12
PERFORMANCE PROGRAM
The program for this performance will be available the week of the event.
View digital program.
BEFORE THE PERFORMANCE
A pre-performance discussion begins one hour prior to the performance.
FREE TICKETS FOR MASON STUDENTS
A limited quantity of free student tickets will be available two Tuesdays prior to the event.
Learn more.
2023-2024 Hylton Performing Arts Center Season Sponsor: