Matt Haimovitz with Simone Dinnerstein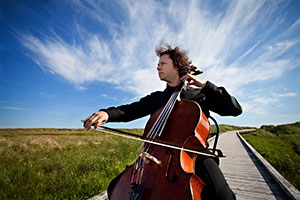 Buy Tickets   Subscribe and Save
Beethoven: Cello Sonata No. 4 in C major, Op. 102, No. 1
Glass: Partita No. 2 for Solo Cello
Glass: Mad Rush for Solo Piano
Beethoven: Cello Sonata No. 5 in D major, Op. 102, No. 2
Marking Ludwig van Beethoven's upcoming 250th birthday in 2020, this sublime concert juxtaposes this classical master with one of today's most influential composers—Philip Glass—for a fascinating concert of "then and now." Two virtuosos, cellist Matt Haimovitz and pianist Simone Dinnerstein, present an innovative program that showcases the two musicians as collaborators and soloists. The program will open and close with the duo performing Beethoven's Cello Sonatas together. Known as a musical pioneer and a "ferociously talented cellist" (The New York Times), Haimovitz will perform Glass' Partita No. 2, a work for which he performed the world premiere in 2017. Dinnerstein will perform Mad Rush, a solo by Glass which demonstrates her extraordinary depth and virtuosity as a pianist. The Washington Post praised her "personality, verve, and thoughtfulness," and The New Yorker describes her "lean, knowing and unpretentious elegance."
We had the opportunity to chat with Matt about his experience working with Glass. Learn more.
$50, $43, $30
A pre-performance discussion with Matt Haimovitz and Simone Dinnerstein begins in Merchant Hall one hour prior to the performance.
Individual tickets go on sale August 1.
Free student tickets will be available two weeks prior to this event.