Need help? For assistance accessing digital events at performance time, email stages@gmu.edu.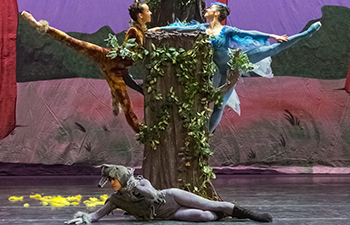 Hylton at Home
Manassas Ballet Theatre Artist Chat: Peter and the Wolf & More
Thursday, Mar 25, 2021 7:15pm

Virtual Event
Manassas Ballet Theatre (MBT) goes behind the scenes with Peter and the Wolf & More! choreographers Kaitlin Frankenfield, Ahmed Nabil, and Vadim Slatvitskiy! Together they provide insights into the creative process from the movements and music to costumes and sets. This chat will be moderated by Manassas Ballet Theatre Board Treasurer, JeanMarie Komyathy. 
How to Watch
This event will be available to watch beginning Thursday, March 25 at 7:15 p.m. ET simultaneously on this webpage, the Hylton Center Facebook page, and YouTube channel.
MBT's production of Peter and the Wolf & More! streams Saturday, March 27 at 7:30 p.m. Streaming will be available for 30 days following the premiere. To purchase tickets ($25) and to view Peter and the Wolf & More! at the scheduled date and time, visit MBT's online ticket platform.
Thank you to our sponsor: