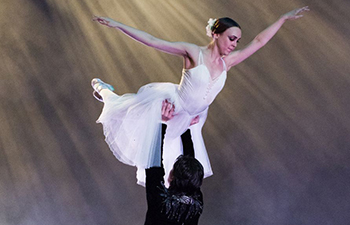 Manassas Ballet Theatre
Manassas Ballet Theatre Artist Chat: Giselle
Tuesday, May 25, 2021 7:15pm

Virtual Event
Go behind the scenes with Manassas Ballet Theatre (MBT) dancers Julianne Russell and Dani Moya as they share their insights into the romantic ballet Giselle and offer unique perspectives on their careers as professional dancers. This chat will be moderated by MBT Dancer/Instructor Hannah Locke. 
Manassas Ballet Theatre Artist Chat: Giselle will be streamed simultaneously on this webpage, Facebook, and YouTube at the scheduled time.   
FREE  
   
MBT's virtual performance of Giselle begins streaming on Saturday, May 29 at 7:30 p.m. and will be available for viewing for 30 days. To purchase tickets ($25) and to view Giselle at the scheduled date and time, visit Manassas Ballet Theatre's online ticket platform. 
For more information about MBT's production of Giselle, visit manassasballet.org or call (703) 257-1811.  
Thank you to our sponsor: