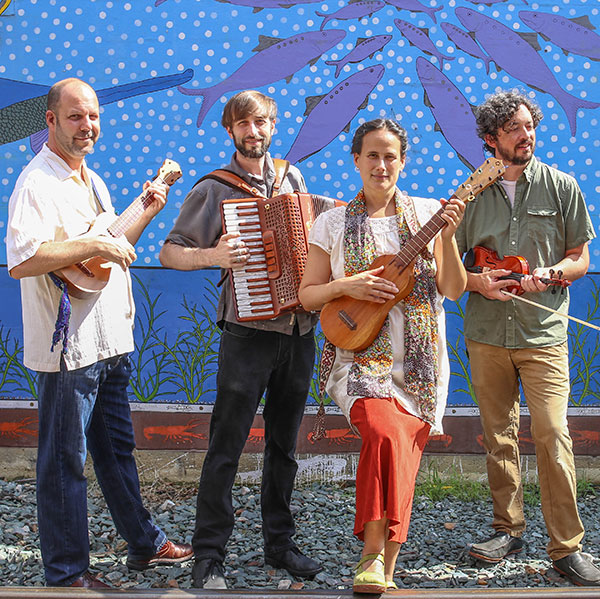 Hylton on the Hill
Lua Project
Saturday, Jun 05, 2021 4:00pm

Beacon Hall, 1011, Pre-function Lobby, Science and Technology Campus, Hylton Performing Arts Center, Science and Technology Campus, West Side Campus Field and Hill, Science and Technology Campus
Lua Project invites the whole family to experience "Mexilachian Music," the joyful confluence of original and traditional music from Mexico, Appalachia, and the Atlantic basin, featuring eclectic musical styles across cultures and times for its outdoor Hylton on the Hill performance. The sextet includes singer-songwriter Estela Knott; double bassist and composer Dave Berzonsky; virtuoso accordionist and multi-instrumentalist Matty Metcalfe, and fiddle and mandolin master Christen Hubbard, with Ivan Orr on keys, and Craig Dougald on drums. They write about contemporary themes, but draw on the musical traditions of their own families' past, and strive to create a repertoire that they can pass down to their children to experience, transform, and pass on. "I would never pass up an opportunity to hear Lua play. With tight rhythms, arrangements, and harmonies, Estela's voice is singular and soaring, and Dave and the rest of the band never let the groove get off track," (WAMU's Bluegrass Country).
$25 adult, $12.50 Youth through Grade 12
How to Watch
Enjoy this performance in your own seating area, physically distanced from other audience members.
Free Tickets for Mason Students
A limited quantity of free student tickets will be available for each event. Eligible Mason students should log onto
Mason360
to claim their tickets beginning two Tuesdays prior to the event.
All performances including the program, artists and dates are subject to change.