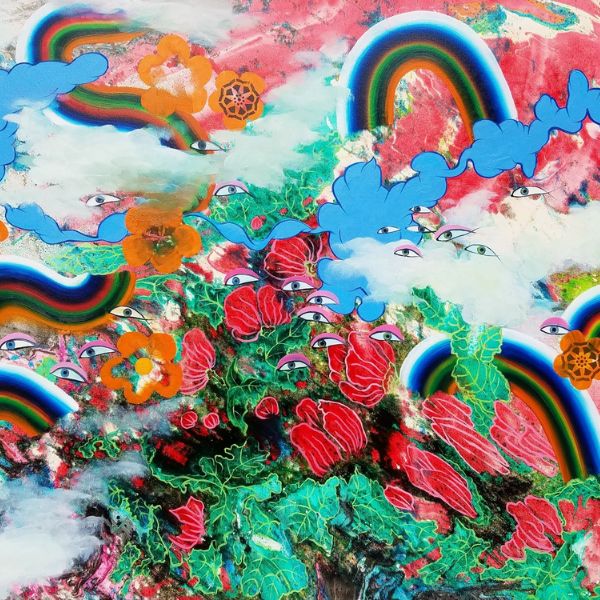 November 7– January 6
Celestial Carnival features Korean-American artist Ju Yun's vibrant and often otherworldly paintings which take their inspiration from mass culture in all its forms.  Her paintings intertwine elements of pure abstraction and recognizable motifs drawn from traditional Korean art and global pop culture, and often incorporate non-traditional materials, cut-up and collaged arrangements, found objects, and ready-made consumer items.
Through her voracious formal vocabulary and playful sense of humor, Ju Yun's paintings present a concentrated and kaleidoscopic vision that celebrates hybrid identities and cross-cultural connections. Their exuberant surfaces are evocative and philosophically informed explorations of liminal terrain full of chimerical creatures, uncanny patterns and disembodied eyes. In these myth-like tableaux, time and space collapse upon each other and the known world is reformed as a new world is awakened.
About the Artist
 Ju Yun received her BFA in Painting from the Corcoran College of Art and Design. She has exhibited in the US and abroad including recent solo exhibits at Art Expo (New York, NY), Hugh N. Ronald Gallery (Portland, IN), the Workhouse Arts center, the Museum of Contemporary Art Arlington and the Susquehanna Art Museum (Harrisburg, PA). She has participated in numerous group shows and juried museum exhibitions at venues including the Marin Museum of Contemporary of Art (Marin, CA); the Taubman Museum of Art (Roanoke, VA), William King Museum of Art (Abingdon, VA), and CICA Museum in South Korea. She lives and works in Chantilly, Virginia. Learn more about the artist.