Hylton Presents
Jazz at Lincoln Center Presents
Sunday
,
Mar.
05
at
4 p.m.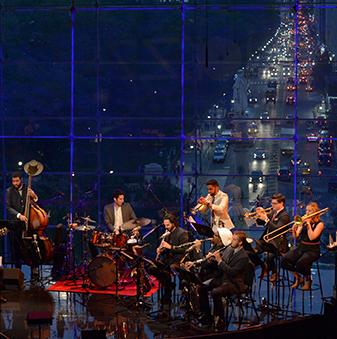 Songs We Love
You don't have to take a train to New York City to indulge in the polished brass, spirited improvisation, and syncopated rhythms of Jazz at Lincoln Center. Trumpeter Riley Mulherkar, the "youngster to keep an eye on" (The Wall Street Journal), leads an all-star band made up of New York's brightest, emerging jazz talent in Jazz at Lincoln Center Presents: Songs We Love. The program explores the first 50 years of early blues and jazz music, covering classic songs from "Ma" Rainey, Billie Holiday, Ella Fitzgerald, Frank Sinatra, Judy Garland, and more. Jazz at Lincoln Center has been at the vanguard of jazz performance and preservation worldwide for more than three decades. Under the direction of Wynton Marsalis, Jazz at Lincoln Center has brought the art form of jazz from the heart of New York City to over 446 cities in more than 40 countries. The virtuosic rising stars of Jazz at Lincoln Center will inspire confidence in the future of the uniquely American art form while riffing on its storied past.
Musicians: Vuyo Sotashe, Brianna Thomas, and Shenel Johns with vocals; Riley Mulherkar, trumpet; Mariel Bildsten, trombone; Julian Lee, reeds; Mathis Picard, piano; Barry Stephenson, bass; TJ Reddick, drums.
This performance is age appropriate for all ages.
Prices: $48, $41, $29, half-price for youth through Grade 12
Run Time: 90 minutes, no intermission
BEFORE THE PERFORMANCE
A pre-performance discussion begins one hour prior to the performance.
FREE TICKETS FOR MASON STUDENTS
A limited quantity of free student tickets will be available two Tuesdays prior to the event.
Learn more.
2022-2023 Hylton Performing Arts Center Season Sponsor: