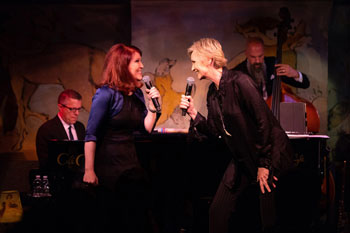 Featuring Kate Flannery, Tim Davis, and the Tony Guerrero Quintet
What if two of your favorite comedy mavens decided to partner up for a hilarious, surprisingly tuneful Christmas cabaret spectacular? Genius! A Swingin' Little Christmas stars Jane Lynch (Glee's Sue Sylvester, The Marvelous Mrs. Maisel's Sophie Lennon) and Kate Flannery (The Office's Meredith). This holiday edition of their hit New York cabaret show Two Lost Souls is basically the Rat Pack with a couple of broads. Accompanied by Tim Davis and the Tony Guerrero Quintet, these longtime friends and performing partners share their uniquely hysterical take on everything from Broadway classics to the Barry Sisters to Nicki Minaj. "[They were] captivating, the comedy spectacular, and the vibe was absolutely precious" (Get Out! Magazine).
$65, $55, $40, half-price for youth through Grade 12.
Run time: 75 minutes with no intermission
Free Tickets for Mason Students
A limited quantity of free student tickets will be available for each event. Eligible Mason students should log onto
Mason360
to claim their tickets beginning two Tuesdays prior to the event.
Before the Performance
A pre-performance discussion begins in Merchant Hall one hour prior to the performance.