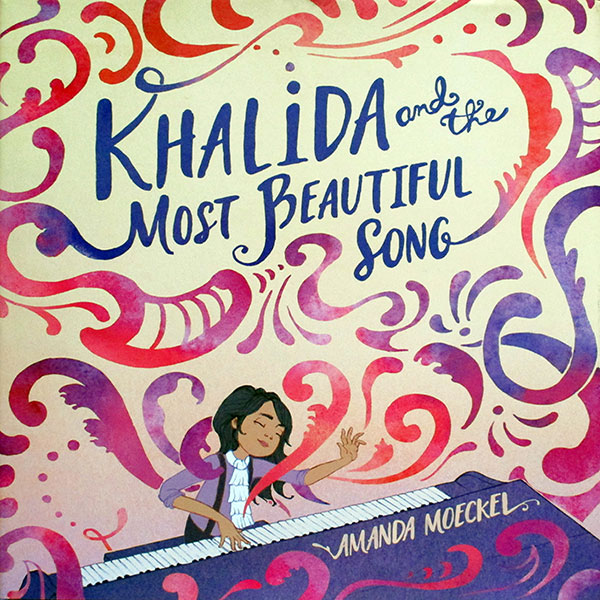 Hylton at Home
Hylton at Home Story Corner: "Khalida and the Most Beautiful Song"
Saturday, May 15, 2021 10:15am

Virtual Event
Written and Illustrated by: Amanda Moeckel
Read with permission of Page Street Kids.  
Read by: Sheyna Burt
When a song whispers in Khalida's ear late one night, she is determined to catch it. But the next day, no matter how hard she tries, bad timing and a busy schedule get in the way of her creative pursuit. Khalida longs for time to sit at the piano and make her own music and refuses to give up on her quest. When she finally succeeds, we discover the power of a captivating melody. Readers will relate to Khalida's overscheduling frustrations as well as her joy as inspiration becomes art. Lush watercolor art showcases how one girl's determined pursuit of an idea rewards us all with the enduring magic of a beautiful song.
The Hylton Performing Arts Center and the Prince William Public Library System have joined forces to continue Hylton at Home Story Corner, a virtual performing arts story time this spring. The goal of this virtual story time is to increase awareness of different performing art forms and artists through books. Each story time will be pre-recorded and premiere on both the Hylton Center and Library's social media channels at 10:15 a.m. on the third Saturday of the month. The library will prepare reader advisories for each book that list similar books children and families may want to explore. 
Suggested Reading List:
Because, by Mo Willems
88 Instruments, by Chris Barton
The Bear and the Piano, by David Litchfield
One Bear Extraordinaire, by Jayme McGowan
The Oboe Goes Boom Boom Boom, by Colleen Venable
FREE
How to Watch

This event will be available to watch beginning Saturday, May 15 at 10:15 a.m. ET simultaneously on this webpage, the Hylton Center Facebook page, and YouTube channel. It will be available until May 29, 2021.
The McNichols Family Foundation, Education Initiatives Sponsor