Hylton at Home Story Corner: "Brave Ballerina: The Story of Janet Collins"
Presented By
Hylton at Home
When/Where
Saturday, Oct 17, 2020 10:30am
Virtual Event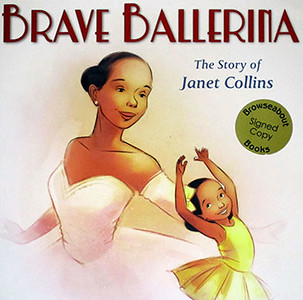 Written by Michelle Meadows, illustrated by Ebony Glenn, published by Henry Holt and Company
Janet Collins wanted to be a ballerina in the 1930s and 40s, a time when racial segregation was widespread in the United States. Janet pursued dance with a passion, despite being rejected from discriminatory dance schools. When she was accepted into the Ballet Russe de Monte Carlo as a teenager on the condition that she paint her skin white for performances, Janet refused. She continued to go after her dreams, never compromising her values along the way. From her early childhood lessons to the height of her success as the first African American prima ballerina in the Metropolitan Opera, Brave Ballerina is the story of a remarkable pioneer as told by Michelle Meadows, with fantastic illustrations from Ebony Glenn. 
The Hylton Performing Arts Center and the Prince William Public Library System have joined forces to launch Hylton at Home Story Corner, a virtual performing arts story time this fall. The goal of this virtual story time is to increase awareness of different performing art forms and artists through books. Each story time will be pre-recorded and premiere on both the Hylton Center and Library's social media channels at 10:30 a.m. on the third Saturday of the month. The library will prepare reader advisories for each book that list similar books children and families may want to explore. Recommended for children ages 4-8. This Hylton at Home Story Corner will be read by Caroline Rocher Barnes, George Mason University School of Dance.
 "Brave Ballerina: The Story of Janet Collins" will be streamed simultaneously on this webpage, Facebook and YouTube at the scheduled time. This video will be available from October 17 at 10:30 a.m. until December 31.
To enable closed captioning, please navigate to the Hylton Center Facebook page or YouTube channel. When viewing our videos on Facebook, please click the gear icon for "Settings" in the bottom right of the video pane and toggle the Captions button to "ON". To access automated closed captioning when viewing our videos on YouTube, please click the "CC" button in the bottom right of the video pane.
FREE
Thank you to our sponsor: