Hylton at Home Story Corner: Flibbertigibbety Words: Young Shakespeare Chases Inspiration
Presented By
Hylton at Home Story Corner
When/Where
Saturday, Dec 19, 2020 10:30am
Virtual Event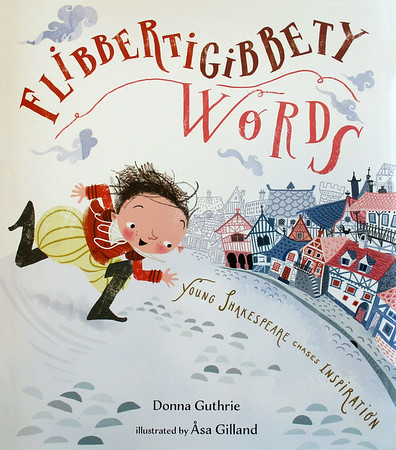 Written by Donna Guthrie, Illustrated by Åsa Gilland  
With quotes and sly references to the famous works of William Shakespeare and the words he invented, this adventurous ode to language will delight readers young and old. It all starts one morning when words fly into William's window. He wants to catch them, but they are flibbertigibbety and quick and slip right through his fingers. Soon whole lines of verse are leading him on a wild goose chase as they tumble, dip, flip and skip all through town, past a host of colorful characters the observant reader may find as familiar as the quotes. William remains persistent, and with time and the proper tools he finds a way to keep the words with him.  
  The Hylton Performing Arts Center and the Prince William Public Library System have joined forces to launch Hylton at Home Story Corner, a virtual performing arts story time this fall. The goal of this virtual story time is to increase awareness of different performing art forms and artists through books. Each story time will be pre-recorded and premiere on both the Hylton Center and Library's social media channels at 10:30 a.m. on the third Saturday of the month. The library will prepare reader advisories for each book that list similar books children and families may want to explore. Recommended for children ages 4-8.  
This Hylton at Home Story Corner will be read by Rick Davis, Executive Director of the Hylton Center and Dean of Mason's College of Visual and Performing Arts. It is read with Permission of Page Street Kids and in collaboration with Prince William Public Library System. 
FREE 
"Flibbertigibbety Words: Young Shakespeare Chases Inspiration" will be streamed simultaneously on this webpage, Facebook and YouTube at the scheduled time. This video will be available from December 19 at 10:30 a.m. until December 26.  
To enable closed captioning, navigate to the Hylton Center Facebook page or YouTube channel. When viewing our videos on Facebook, click the gear icon for "Settings" in the bottom right of the video pane and toggle the Captions button to "ON". To access automated closed captioning when viewing our videos on YouTube, click the "CC" button in the bottom right of the video pane.  
Activity Guide for "Flibbertigibbety Words: Young Shakespeare Chases Inspiration"  
Thank you to our sponsor:  
F.H. Furr Plumbing, Heating Air Conditioning & Electrical