Veterans and the Arts Initiative
Graphic Arts – Exploration of Hands-On Arts Practices
Sunday
,
Mar.
19
at
1 p.m.
Sunday
,
Mar.
26
at
1 p.m.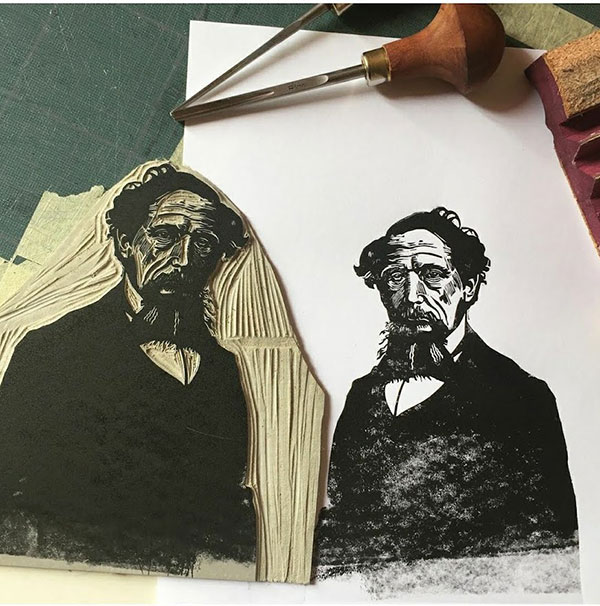 Registration for this workshop has closed.
Graphic Arts uses portable art-making as a catalyst for creating shared understanding. Objectives are to use tools and materials to create artwork through which participants can process their personal experiences. Techniques include: relief printing and hand papermaking from clothes. Patrick Sargent, a USAF Veteran, artist, and adjunct faculty in George Mason University's School of Art guides participants through these practices. Relief printing involves the artist drawing a design on a smooth block of material—usually wood or linoleum—and uses tools to carefully cut away the areas that are not to be printed, leaving behind a raised surface of lines and shapes. The surface of the block is inked using a dabber or a roller with the image pressed onto paper. Handmade paper is a specialized craft and a medium for artistic expression that predates the industrial manufacture of paper and cardboard. Cloth will be cut up and then processed into paper pulp from which hand-formed sheets will be produced.  Colors and other variations are dependent on the materials used and the hand of the artists.
This workshop series is FREE and open to Veterans, Servicemembers, and their families; children ages 12 and up may participate alongside their parents. Space is limited.
Please reference our information sheet for details, including community policies and minimum age of participation for military family members.
Learn more about the Hylton Center's Veterans and the Arts Initiative.