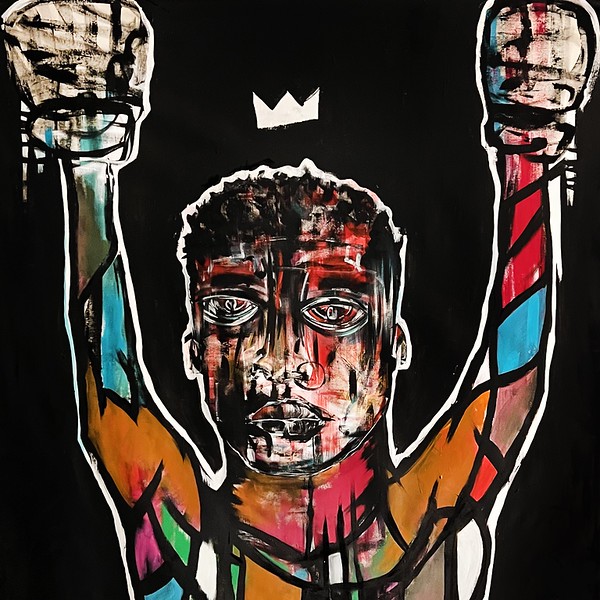 September 6 – November 6  
Zero and One features expressionist paintings by artist and poet Bennie Herron. Herron paints emotionally charged figures in dramatic contours, filled with dynamic and often fractured interiors. The works possess the immediacy of religious icons remixed with the confrontational style of street art and graffiti.  
Sharing graphic affinities with German Expressionist artists such as Ernst Ludwig Kirchner and late 20th Century neo-expressionist master Jean-Michel Basquiat, Herron's paintings are a deeply personal response to his lived experience and his search for poetic truth. 
About the Artist: Herron was born in San Diego, CA to a blue-collar family. Growing up with the backdrop of this beautiful tourist city could be both inspiring and disenchanting. He had a challenging but fulfilling childhood rooted in unconditional love. The memories of his youth continue to be the undercurrent of his paintings, writings, and social advocacy. Herron paints and writes to understand himself and in turn, to understand the world around him. He has published three books of poetry and has performed across the country. He currently lives and works in Manassas, VA. 
Join us for a casual, free reception in honor of Manassas-based artist and poet Bennie Herron and his solo exhibition Zero and One. The event will feature a live poetry reading by Herron who will discuss the ideas and methods behind his expressionist figure paintings and poetry. Learn more