Veterans and the Arts Initiative
Exploring Innovative Collage Techniques through Botanical Imagery
Friday
,
Nov.
18
at
1 p.m.
Saturday
,
Nov.
19
at
2 p.m.
Off Campus Location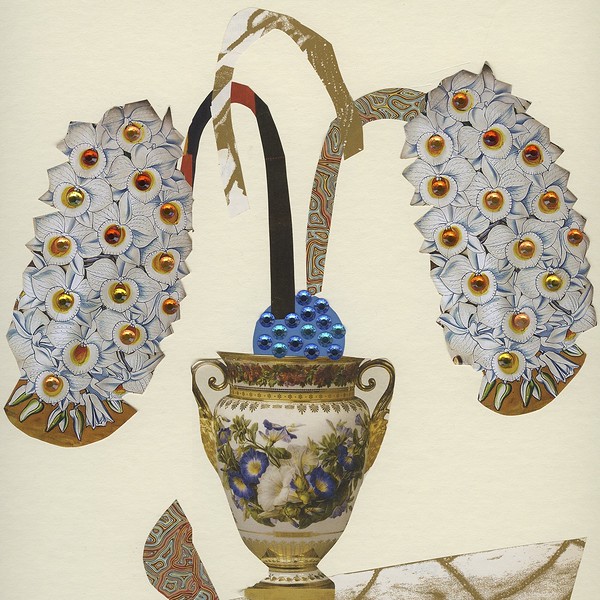 Due to unforeseen circumstances, workshops at Haymarket Gainesville Library on November 18 and November 19 have been canceled and will likely be rescheduled at a later date. 
This workshop takes place at Haymarket Gainesville Library, Haymarket, VA. 
Collage is a versatile art-making technique that combines various things together to make a work. It utilizes unexpected combinations of shape, texture, and imagery, allowing the creator to tap into their subconscious, free associate, and create without special skills.
Taught by Stephanie Benassi, faculty in the School of Art at George Mason University, this workshop starts with historical botanical imagery combined with 21st-century mediated imagery. Materials such as magazines and Internet printouts are used to move beyond the common representations of still life or floral arrangements. Participants will learn how to incorporate a range of materials and methods to produce contemporary imagery that can be both a vehicle for storytelling and decorative innovation. FREE and open to Veterans, Servicemembers, military family members, and military caregivers.
About the Artist: Stephanie Benassi is a conceptual artist working primarily with photography. She uses photographic images and processes to conceptually engage the contradictions, limitations, and material conditions inherent to the photographic medium. Specific research, travel, and tactile experimentation are developed into gallery installations that incorporate a range of materials and methods including documentary photographs, chemical process-based works, collages, and sculptural elements that together create complex visual and material experiences. Her work draws from a diverse photographic vocabulary and an engagement with the medium's various historical trajectories in genres such as landscape, forensics, Victorian memento mori, occult, and camera-less photography. Through these diverse references, materials, and stylistic elements, Benassi investigates the ways in which the material conditions and specialized languages of the photographic medium shape our relations to history, power, and the production of images.