Exploring Identity with Women Veterans: Photography Exhibition/Reception
| | | |
| --- | --- | --- |
| When/Where | Sunday, Mar 17, 2019 1:00pm | Hylton Performing Arts Center, Lovey Hammel Lounge, Science and Technology |
| | Sunday, Mar 24, 2019 1:00pm | |
| | Sunday, Mar 31, 2019 1:00pm | |
| | Sunday, Apr 07, 2019 1:00pm | Hylton Performing Arts Center, Buchanan Partners Art Gallery, Science and Tech |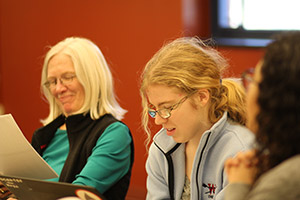 Veterans and the Arts Initiative
Instructor: Danielle Dravenstadt, Photography Instructor, School of Art, George Mason University
Note: the April 7 workshop is the final in this series and will culminate at the end of class in a reception and exhibition of the participants' work in the Buchanan Partners Art Gallery. The exhibition and reception are free and open to the public.
Want to learn to take great pictures? Join us for this four-part workshop series that explores Women Veteran identities through photography. Learn to maximize the potential of your smart phone camera and improve your photography skills through hands-on practice. Explore your personal experiences as subject material for artistic expression and share your work within a supportive, creative community. Participants will build community and engage in creative work and produce a final printed photograph, while developing and applying skills including perception, reflection, production, and photographic techniques.  This workshop series is FREE and open to Women Veterans.  Space is limited.
The instructor will be using Apple products as a preference from an educational/pedagogical standpoint.
Sponsors:
Azalea Charities, Inc., Frank E. Lasch, Sr. Chairman and Founder; Dominion Energy; Safeway Foundation; City of Manassas; J Barrows Sales Training; Virginia Commission for the Arts; National Endowment for the Arts; Performing Arts For Kids (PAK)