Details for purchasing tickets to performances in 2021 will be announced later in the fall of 2020. Learn more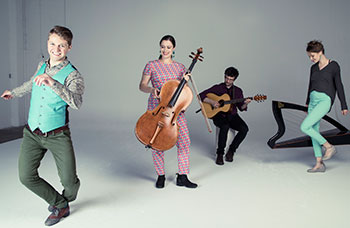 Maeve Gilchrist & Nic Gareiss and Natalie Haas & Yann Falquet
This vibrant quartet playfully blends acoustic guitar, cello, harp, and percussive dancing for an infectiously delightful night of music and dance! The foursome comprises two innovative duos: harpist Maeve Gilchrist and percussive-dancer Nic Gareiss, plus the husband and wife team of cellist Natalie Haas and acoustic guitarist Yann Falquet. Gilchrist and Gareiss offer an unusual combination of percussive footwork and melody while Haas and Falquet perform a mix of Québécois traditional songs and new takes on folk music from Western Europe.  Don't miss this night of invigorating music and dance!
$30
Run time: 104 minutes, including a 14-minute intermission
Details for purchasing tickets will be announced later in the fall of 2020.
Free student tickets will be available two weeks prior to this event.