Hylton Presents
DRUM TAO 2024
Saturday
,
Feb.
10
at
8 p.m.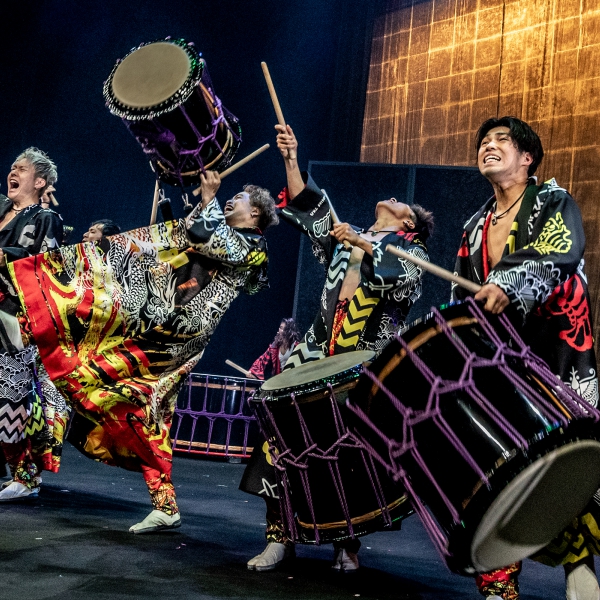 Back by popular demand, taiko sensation Drum Tao returns with its intensely energetic, highly visual, and pulse-pounding take on the ancient art of Japanese drumming. Merging a Samurai ethos with a rock 'n' roll attitude, Drum Tao presents an unforgettable show that is a feast for the senses. Athletic bodies and contemporary costumes blend with pulsating rhythms, captivating choreography, and vibrant sets. See the world's top male and female taiko drumming masters perform traditional songs and contemporary compositions, showcasing an assortment of drums from small handheld snare drums to large-scale odaiko drums. Founded more than 25 years ago in Kyushu, Japan, Tao stands for The Martial Art of Drumming, a fact emphasized in the sheer physicality and muscular zeal of the group's performances. "Extraordinarily talented percussion artists, and they're seductive, alluring performers" (Chicago Tribune).
This performance is appropriate for all ages.
Run Time: approximately two hours, plus intermission
Tickets: $60, $51, $36; half-price for youth through Grade 12
PERFORMANCE PROGRAM
The program for this performance will be available the week of the event.
View digital program.
BEFORE THE PERFORMANCE
A pre-performance discussion begins one hour prior to the performance.
FREE TICKETS FOR MASON STUDENTS
A limited quantity of free student tickets will be available two Tuesdays prior to the event.
Learn more.
2023-2024 Hylton Performing Arts Center Season Sponsor: