Dominion Energy Veterans Guitar Workshop Series: Level I
| | | |
| --- | --- | --- |
| When/Where | Tuesday, Sep 03, 2019 7:00pm | Hylton Performing Arts Center, Rehearsal Room, Science and Technology |
| | Tuesday, Sep 10, 2019 7:00pm | |
| | Tuesday, Sep 17, 2019 7:00pm | |
| | Tuesday, Sep 24, 2019 7:00pm | |
| | Tuesday, Oct 01, 2019 7:00pm | |
| | Tuesday, Oct 08, 2019 7:00pm | |
| | Tuesday, Oct 15, 2019 7:00pm | |
| | Tuesday, Oct 22, 2019 7:00pm | Hylton Performing Arts Center, Gregory Family Theater, Science and Technology |
| | Tuesday, Oct 29, 2019 7:00pm | Hylton Performing Arts Center, Rehearsal Room, Science and Technology |
| | Tuesday, Nov 05, 2019 7:00pm | |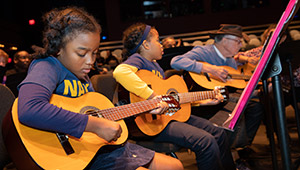 This workshop series is no longer accepting registrations. If you have any questions, please email hylton@gmu.edu
The Dominion Energy Veterans Guitar Workshop Series is free to Veterans, Servicemembers, their families, and military caregivers. 
The objective of the workshops is to help each participant improve their general guitar skills to play songs; curriculum is flexible and is determined at the discretion of the instructor to meet the needs of a diverse group of abilities.  To determine the difference between Level I and Level II, please see the registration form below.
Space is limited; therefore, we ask all participants to plan to attend the entire 10-week series.
For registration, visit here
For more information, visit here
Information about Level II workshops
Lessons are also open to the general public for a $250 fee.