Dominion Energy Veterans Guitar Workshop Series
| | | |
| --- | --- | --- |
| When/Where | Tuesday, Mar 26, 2019 6:00pm | Hylton Performing Arts Center, Rehearsal Room, Science and Technology |
| | Tuesday, Mar 26, 2019 7:00pm | |
| | Tuesday, Apr 02, 2019 6:00pm | |
| | Tuesday, Apr 02, 2019 7:00pm | |
| | Tuesday, Apr 09, 2019 6:00pm | |
| | Tuesday, Apr 09, 2019 7:00pm | |
| | Tuesday, Apr 16, 2019 6:00pm | |
| | Tuesday, Apr 16, 2019 7:00pm | |
| | Tuesday, Apr 23, 2019 6:00pm | |
| | Tuesday, Apr 23, 2019 7:00pm | |
| | Tuesday, Apr 30, 2019 6:00pm | |
| | Tuesday, Apr 30, 2019 7:00pm | |
| | Tuesday, May 07, 2019 6:00pm | |
| | Tuesday, May 07, 2019 7:00pm | |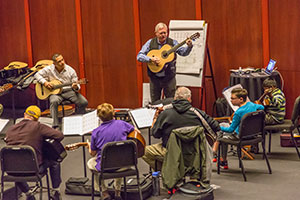 This workshop series has reached capacity and is no longer accepting registrations.
Veterans and the Arts Initiative
Instructor: Glen McCarthy, George Mason University
Musicians of all skill levels are invited to bring their own guitar or try one of ours in this ten-week series of lessons with Glen McCarthy, guitar instructor at George Mason University, who has shared his expertise with the community during Veterans Day events at the Hylton Center. Free to Veterans, Servicemembers, their families, and military caregivers; $250 for the general public
Information and registration at HyltonCenter.org/Veterans.
Learn more about Level II classes.
A special thank you to Music for Life and Mason Community Arts Academy