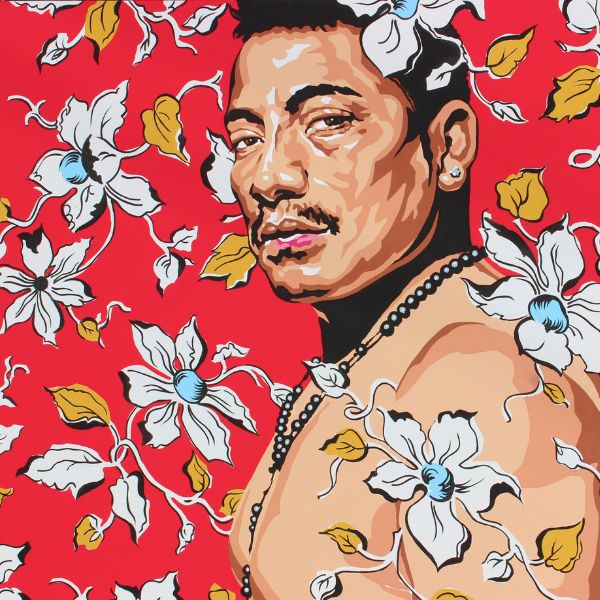 September 12 – November 4
Drawing from street mythology, Bellezza Brutal features artist David Amoroso's Pop Art inflected paintings of fiercely masculine models enmeshed in vibrant floral motifs and patterning. Through the interplay of each portrait sitter's intimidating posturing and aggressive gaze set amidst florid embellishments and designs that connote harmony, desire, and domesticity, Amoroso's paintings consciously disrupt traditional social and historical binaries that inform our expectations of how masculinity is visualized. In doing so, his paintings perform a kind of code-switching that alter our "readings" of the men he depicts and upends simple assessments and stereotypes.
To create the paintings, Amoroso begins by photographing his models in a manner that he hopes can expose the relations of the subject, viewer and artist without perjury and conjure a form of "social portrait." His models, often heavily tattooed in life, are painted without their self-styled skin art. Tattoos are unique identity markers that can also be a kind of armor protecting against an aggressively conformist social world. By removing these markers, and replacing their story-telling function with vintage floral designs, Amoroso lays his subjects bare, makes them vulnerable, and asks us to look without association. What remains is a quality of romance, remembrance, and desire. Like funerary portraits, these ordinary men become our heroes, our brothers, our loves, ascended to an earthly paradise.
About the Artist:
David Amoroso shares his "Pop Art" aesthetic through painting, photography, and block and screen-printing. Although the majority of David's work is dedicated to painting portraits of cultural icons, he also represents everyday people and addresses social justice through his art. The influence of Mexico and Central America are apparent in his bold color palette, and he upholds traditional cultural artistries such as Papel Picado, altars for Día de los Muertos and Guatemalan Alfombras de Aserrín.
Amoroso has exhibited in the D.C. Metro area, New York, California, Mexico, and Central and South America. His work is frequently highlighted in cultural events, festivals, and Smithsonian programs.
Learn more about the artist