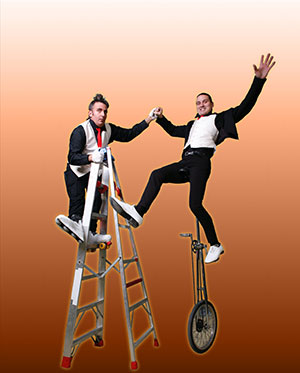 Buy Tickets   Subscribe and Save
In the tradition of the Quebec Circus, Circo Comedia brings thrills, comedy, stunts, magic, and eccentricity to delight and amaze the whole family. Direct from Montreal, "straight man" Jean Saucier juggles, cycles, balances, and performs magic atop dizzying heights, while Patrick Côté clowns around on skates or while drumming as his (imperfect) assistant. Their unique brand of tomfoolery has been entertaining audiences and winning awards for 15 years. "Circus act small on performers, large on laughs. How small can a circus be? No smaller than the Circo Comedia duo, surely… 60 some minutes of one-ring (half-ring?) entertainment" (Pittsburgh Tribune Review).
Fun for all ages
$15 adults; $10 children
Individual tickets go on sale August 1.
Free student tickets will be available two weeks prior to this event.
All patrons must have a ticket. For Hylton Family Series only: Children under the age of two who are held by an adult and do not occupy a seat may receive a lap ticket free of charge.