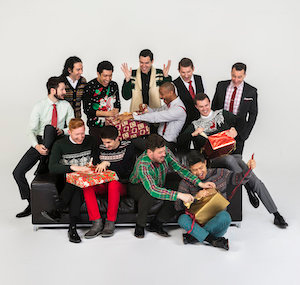 Chanticleer
Saturday, Dec 05, 2020 8:00pm

Virtual Event
Join us in our tradition of ushering in the holiday season with peace, joy, and a cappella, with a specially recorded digital performance by Chanticleer! With their signature harmonic blend of 12 male voices ranging from soprano to bass, this festive holiday program features American hymns, Christmas carols from around the world, Gospel melodies, and Renaissance motets. Since Chanticleer began recording in 1981, it has sold more than 1 million albums and won two Grammy® Awards. "Chanticleer fascinates and enthralls for much the same reason a fine chocolate or a Rolls Royce does: through luxurious perfection," (Los Angeles Times).
Before the event at 7:15 p.m., Subscribers from the 19-20 season as well as current Friends of the Center for the Arts ($150+) and Friends of the Hylton Center ($150+) are invited to an exclusive Artists in Conversation with Chanticleer Music Director, Tim Keeler, and Asst. Music Director, Gerrod Pagenkopf, and moderated by Dr. Stan Engebretson, Mason's Director of Choral Studies. Details for how to join the conversation will be emailed prior to the performance. 
$15-45
About Access Passes: Access passes will be on sale beginning Friday, Nov. 13 at 10 a.m. Only one access pass is needed per household for each concert. When selecting your access pass, you may also select your preferred price: pay-what-you-wish between $15-$45, in increments of $5. Learn more about sliding-scale pricing.
How to Watch:
Generate your personal barcode before 5 pm on the performance date. (Go to your access pass purchase confirmation email and open the link to your access pass in order to generate this barcode.)

Redeem Barcode. To watch the performance, go to https://gmu.mylivenow.net/a-chanticleer-christmas/ and enter  your access code (the barcode on your access pass). The codes are case-sensitive and should be entered without the dashes. 

You may watch this performance using your access pass until Tuesday, December 8 at 11:59 p.m.

Learn more about accessible services that can be provided for this virtual event.
Thank you to our sponsors: