All in-person performances and events have been suspended through fall 2020. Learn More
CANCELLED - Summer Performances for Young Audiences: Geoff Marsh - Juggling & Circus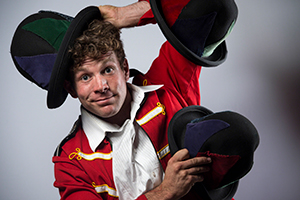 This performance is cancelled. Information for ticket holders can be found here. If you have tickets to a performance that is cancelled, you will be contacted by Hylton Center Ticket Office with details about your tickets.
Don't just watch this fun-loving circus, become part of it! Geoff Marsh has traveled the world with his unique circus stunts. With a personality that captures and intrigues audiences, Marsh performs stunning tricks with mouth sticks, balls, and cylinders; musical plate spinning; and juggling acrobatics in a performance to remember.  Bring the family to this fun-filled, interactive experience where kids become the stars of the show, audience participation is key, and hilarity ensues.
Fun for all ages! 
This performance is partially supported by funding from the Virginia Commission for the Arts and the National Endowment for the Arts. 
Ticket are available for group purchase only at this time. Call the Group Sales Office at 703-993-7758 for more information.