Details for purchasing tickets to performances in 2021 will be announced later in the fall of 2020. Learn more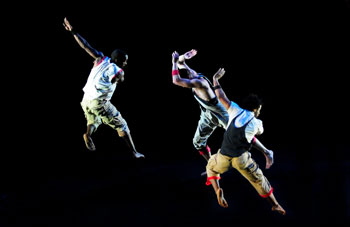 BIG FIVE-OH! A 50th Anniversary Celebration
They've been knocking down artistic barriers for half a century, and to celebrate the Big Five-Oh!, Pilobolus brings a program of trailblazing classics and new work to the stage. This innovative modern dance company effortlessly blends theatricality, poetic movement, and a sheer physical strength that defies gravity. In the Big Five-Oh!, Pilobolus brings back the vintage classic Untitled; the electric show-stopper Megawatt; re-imaginings of signature shadow works; and a new work, Fifty in Five, that condenses the 50-year history of Pilobolus into a breathtaking five-minute whirlwind of movement. Pilobolus has performed on Broadway, at the Oscars, and the Olympic Games, as well as on television, in movies, and in advertisements. The company has been honored with a TED Fellowship, a Grammy® nomination, a Primetime Emmy® Award, and several Cannes Lions Awards. "If the dance world has a summer movie blockbuster equivalent, it must be Pilobolus," (Associated Press).
This performance is family friendly.
$50, $43, $30
Run time: approximately 105 minutes, including a 15-minute intermission
Details for purchasing tickets will be announced later in the fall of 2020.
Free student tickets will be available two weeks prior to this event.