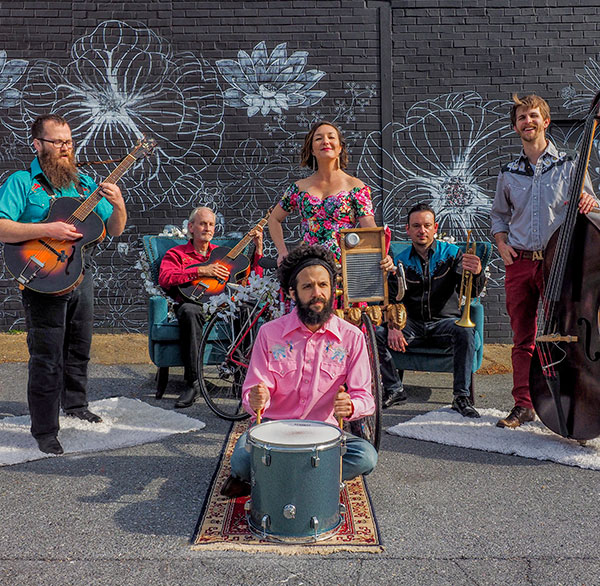 Hylton on the Hill
Bumper Jacksons
Sunday, Sep 19, 2021 4:00pm

Hylton Performing Arts Center, Scene Shop, Science and Technology Campus, Hylton Parking Lot, Science and Technology Campus, Beacon Hall, 1011, Pre-function Lobby, Science and Technology Campus, West Side Campus Field and Hill, Science and Technology…
Bumper Jacksons are hot and sweet, painting America's story from the streets of New Orleans to Appalachian hollers. Unafraid to scrap together new sounds from forgotten 78's, the Bumper Jacksons elegantly balance paying homage to traditions while fashioning their own unique, playful style. The group began as a duo, a city-meets-country experiment between songstress Jess Eliot Myhre and banjo player Chris Ousley. They hopped on bicycles, touring the country, instruments on their backs, seeking to reimagine roots music. In five short years, Bumper Jacksons grew to a fiery five-piece, with horns and pedal steel who will grace our outdoor stage at Hylton the Hill. They also tour internationally and have been honored multiple times as the Mid-Atlantic's "Artist of the Year," "Best Country/Americana Band" & "Best Folk Band" at the Washington Area Music Awards. Bursting at the seams with some of the richest threads of old America, Bumper Jacksons bring you into the center of a party where everyone's invited and the dance floor never sleeps.
View the playbill
$25 adult, $12.50 youth through Grade 12
Run time: 60 minutes with no intermission.
Free Tickets for Mason Students
A limited quantity of free student tickets will be available for each event. Eligible Mason students should log onto
Mason360
to claim their tickets beginning two Tuesdays prior to the event.