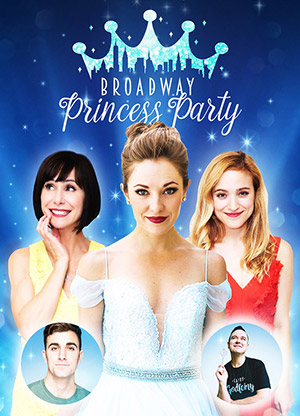 Buy Tickets   Subscribe and Save
Starring Laura Osnes, Susan Egan, and Christy Altomare
Dust off your tiaras and head for this charming concert in which three of Broadway's original and most beloved princesses perform their signature songs as well as many other treasured musical theater numbers. Two-time Tony nominee Laura Osnes (Rodgers and Hammerstein's Cinderella), Tony nominee Susan Egan (Disney's Beauty and the Beast), and Christy Altomare (Broadway's original Anastasia) join forces to host this fun-loving royal soiree alongside Benjamin Rauhala (Broadway's Fiddler on the Roof). Perfect for grown-ups, especially those who love fairytales, this performance features three knock-out Broadway voices singing every princess song in the book while also sharing hilarious backstage tales. Bring your besties, your family, or any Broadway lover who will be tempted to sing along with the show, which critics are calling "spectacular," "enchanting," and "empowering."
Meet the stars of Broadway Princess Party! 
After the performance, go behind-the-scenes for a "meet and greet" opportunity with the cast. A limited number of tickets for this experience will be available for purchase in the Didlake Grand Foyer. Sales begin two hours prior to the performance at the Broadway Princess Party merchandise table. $40 per person; $150 for up to five people (does not include performance tickets).
Dream of becoming a Broadway star? Enter the Unleash Your Inner Princess Contest talent search for a chance to sing on stage with your favorite Broadway princesses in Broadway Princess Party at the Hylton Center on March 29!  Contestants can be any age (with parent/legal guardian permission for singers under 18) to participate. Guest winners will join the cast on stage at the Hylton Center to sing a solo, receive a pair of tickets, and take home some BBP swag! Head to https://broadwayprincessparty.com/unleash-contest/ for full contest rules and instructions. Submission deadline Tuesday, March 10.
This performance is family friendly.
$48, $41, $29
A pre-performance discussion begins in Buchanan Partners Art Gallery one hour prior to the performance.
Individual tickets go on sale August 1.
Free student tickets will be available two weeks prior to this event.