Details for purchasing tickets to performances in 2021 will be announced later in the fall of 2020. Learn more
Bottom's Dream
Presented By
ARTFactory Manassas
When/Where
Thursday, Oct 08, 2020 7:00pm
Virtual Event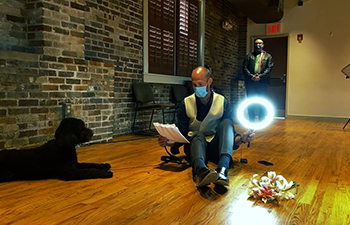 Written by William Shakespeare; adapted by Ken Elston; adapted for film by Kelly Glyptis

Nick Bottom and his fellow actors prepare for Theseus and Queen Hippolyta's wedding by rehearsing their play within the forest. Unbeknownst to them, King Oberon and Queen Titania rule the fairy- and sprite-filled woods. Puck, a sprite under order of King Oberon, places Titania and Bottom under spells. The former Dean of the School of Theater, Ken Elston, created this playful adaptation of A Midsummer Night's Dream. Socially distanced, David Johnson directed and Kelly Glyptis adapted this play for film. Actors from Pied Piper, Rooftop Productions, and the ARTFactory performed it over the summer.

Bottom's Dream will be streamed simultaneously on this webpage, Facebook, and YouTube at the scheduled time. 


To enable closed captioning, please navigate to the Hylton Center Facebook page or YouTube channel. When viewing our videos on Facebook, please click the gear icon for "Settings" in the bottom right of the video pane and toggle the Captions button to "ON". To access automated closed captioning when viewing our videos on YouTube, please click the "CC" button in the bottom right of the video pane.

FREE

Thank you to our sponsor: