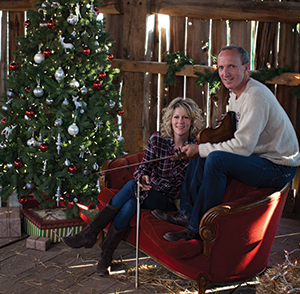 At Home with Natalie MacMaster & Donnell Leahy: A Celtic Family Christmas
Sunday, Dec 13, 2020 7:00pm

Virtual Event
A Celtic Family Christmas
Champion fiddlers Natalie MacMaster, Donnell Leahy, and their seven children welcome us directly into their home to experience Christmas with them like never before through a virtual performance. Join their family as they invite you into their home for Celtic music and stories of raising their children, farming, food, and Christmas traditions. Celebrate with this high-energy performance full of Celtic music and step-dancing with the entire family. Musicians Mac Morin, piano, Mark Kelso, drums, Remi Arsenault, bass, and Elmer Ferrer, guitar join in for a few numbers. Nothing is ever dull in this house, and with this holiday celebration you're in for a treat!
Before the event at 6:15 pm, subscribers from the 19-20 season as well as current Friends of the Center for the Arts ($150+) and Friends of the Hylton Center ($150+) are invited to an exclusive Artists in Conversation with Natalie McMaster and Donnell Leahy. Details for how to join the conversation will be emailed prior to the performance. 
$15-45
About Access Passes: Access passes will be on sale beginning Friday, Nov. 13 at 10 am. Only one access pass is needed per household for each concert. When selecting your access pass, you may also select your preferred price: pay-what-you-wish between $15-$45, in increments of $5. Learn more about sliding-scale pricing.
How to Watch:
Generate your personal barcode before 4 pm on the performance date. (Go to your access pass purchase confirmation email and open the link to your access pass in order to generate this barcode.)

Redeem Barcode. To watch the performance, visit here

and enter your access code (the barcode on your access pass). The codes are case-sensitive and should be entered without the dashes. 



Access Passes are available for purchase until 4 p.m. EST on December 13 and may be used to view the performance between December 13 at 7 p.m. and December 18 at 5 p.m. December 20 at 11:59 p.m. 

For assistance with access passes or viewing, patrons should contact the Ticket Office before the Winter Break closure at 6 p.m. on December 18. 

Thank you to our sponsors: