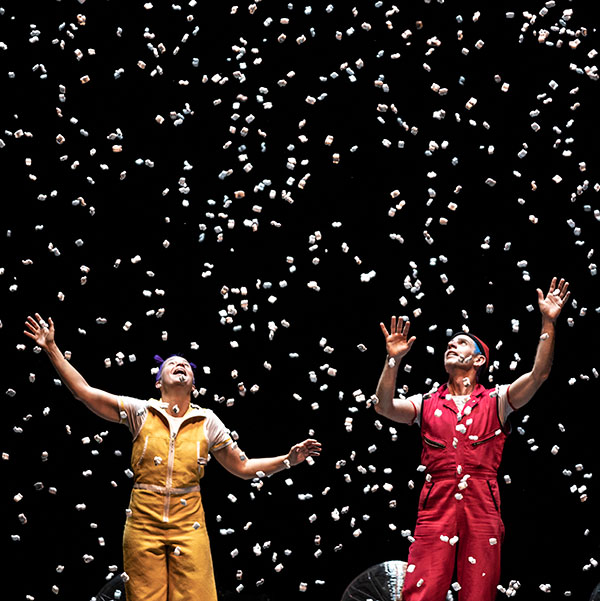 Air Play
Umbrellas fly, fabrics soar over the audience, giant balloons swallow people, and snow swirls, filling the stage with a spectacle the whole family will enjoy! Without words, the Acrobuffos enrapture audiences with a beautiful visualization of air itself. This physical comedy troupe presents a stunning visual poem that brings to life the very air we breathe. Full of color, light, and laughter, Air Play is "a joy from start to finish," raves the Sydney Morning Herald. "You feel you're witnessing divine natural occurrences rather than carefully devised circus stunts," praises the Hartford Courant. Created by the husband and wife circus team of Seth Bloom and Christina Gelsone, in collaboration with kinetic sculptor Daniel Wurtzel, Air Play is a whimsical, heartfelt, and funny homage to the magic of the invisible substance all around us: air!
The use of fog and strobe lights are used during the performance.
This performance is family friendly.
$44, $37, $26, half-price for youth through Grade 12.
Run time: 55 minutes with no intermission.
After the Performance
A post-performance Q&A will take place immediately following the event.
Free Tickets for Mason Students
A limited quantity of free student tickets will be available for each event. Eligible Mason students should log onto
Mason360
to claim their tickets beginning two Tuesdays prior to the event.
This engagement of Acrobuffos is funded through the Mid Atlantic Tours program of Mid Atlantic Arts Foundation with support from the National Endowment for the Arts.