As part of our collective effort to minimize the impact of Coronavirus/COVID-19 to our community, all performances at the Hylton Performing Arts Center have been cancelled through May 18, 2020. This includes performances by the Hylton Center Arts Partners, and all events sponsored by external organizations. Information for ticket holders can be found here. If you have tickets to a performance that is cancelled, please contact the Hylton Center Ticket Office.
Washington National Opera's Domingo-Cafritz Young Artists: The Consul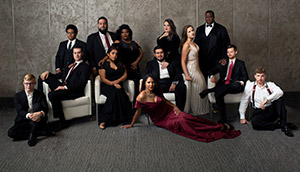 by Gian Carlo Menotti
International powerhouse and WNO Artistic Director Francesca Zambello directs the formidable talents of WNO's young artist program in a presentation of Gian Carlo Menotti's Pulitzer Prize-winning opera.  Set in an unidentified European totalitarian country, The Consul touches on themes of fascism, immigration, and bureaucracy. Francesca Zambello's reduced 80-minute version of the work highlights the moving contemporary resonance the piece retains around the border crisis, the worldwide refugee crisis, and the resurgence of nationalism.
Currently in its 18th season, the Domingo-Cafritz Young Artist Program guides young singers and pianists/coaches on the verge of international careers. The program provides intensive study with renowned vocal and dramatic coaches and offers voice lessons, language classes, career guidance, and master classes with Washington National Opera staff and guest artists. The Young Artists also have the opportunity to perform and cover roles in WNO productions, and to create new roles in WNO's new works program, the American Opera Initiative.
Performances are free and open to the public. All seating on a first-come, first-served basis. Tickets required.
A special performance note from Rick Davis, Executive Director, Hylton Performing Arts Center