As part of our collective effort to minimize the impact of Coronavirus/COVID-19 to our community, all performances at the Hylton Performing Arts Center have been cancelled through May 18, 2020. This includes performances by the Hylton Center Arts Partners, and all events sponsored by external organizations. Information for ticket holders can be found here. If you have tickets to a performance that is cancelled, please contact the Hylton Center Ticket Office.
Matinee Idylls: Chao Tian and Wytold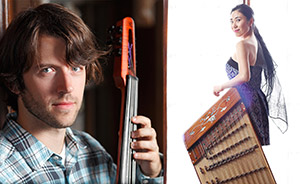 Buy Tickets   Subscribe and Save
Chao Tian and Wytold blend modern styles and traditional techniques from East and West on the Chinese dulcimer and the six-string electric cello with live-looping. This special Matinee Idylls performance—by these previous Strathmore Artists-in-Residence—features new arrangements and adaptations of well-known western classical pieces by composers like Bach, Beethoven, and Vivaldi, popular Chinese classical selections from ancient Ch'in music and Chinese opera, and their own original compositions inspired by their wide-ranging influences. Tian, who is director of the artistic committee of Chinese Music Society of Greater Washington and a leader of "Always Folk" ensemble, has established a career as a soloist, educator, advocate, and composer in both traditional Chinese music and other genres. While Wytold's electrified-chamber sound is versatile enough to inspire reflective audiences in a concert hall or energize a rock club. His original music celebrates classical technique hand-in-hand with modern grooves, improv, and rhythms of pop, rock, jazz, and world styles.