Manassas Ballet Theatre: A Fantasque Evening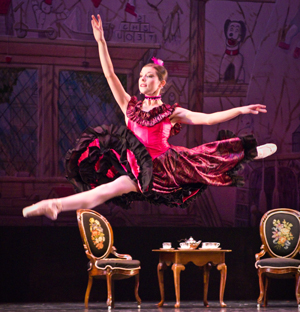 The evening begins with original choreography in Act One – a season highlight. Act Two, La Boutique Fantasque (The Magic Toyshop), tells the story of a world-famous French toymaker who welcomes customers from around the globe to his enchanted shop of dancing dolls who have a love story of their own. The Manassas Ballet Theatre Orchestra accompanies the program.
For information about subscriptions to the Manassas Ballet Theatre, please visit manassasballet.org or call 703-257-1811.
Manassas Ballet Theatre offers selected discounts on tickets to its productions. Eligible groups include employees of the City of Manassas, PWC employees, federal workers, active and retired military, employees of major MBT sponsors, Scouting groups and large group purchases (10+). 
Special offer: $10 tickets are available to Mason students for this performance. Present Mason ID at Ticket Office window.
For more information on these and other discount opportunities, including Discount Codes, please contact MBT at 703-257-1811 or at info@manassasballet.org.