As part of our collective effort to minimize the impact of Coronavirus/COVID-19 to our community, all performances at the Hylton Performing Arts Center have been cancelled through May 18, 2020. This includes performances by the Hylton Center Arts Partners, and all events sponsored by external organizations. Information for ticket holders can be found here. If you have tickets to a performance that is cancelled, please contact the Hylton Center Ticket Office.
Gallery Exhibition: Mel Parada and Kate Fitzpatrick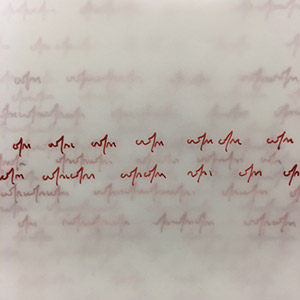 Soundings
March 10 - April 11
Mel Parada and Kate Fitzpatrick explore the edges of written language and find expressive territory within its formal structures, glyphs, and subtext.   Parada examines the possibilities of meaning making in communication design through prints that deconstruct of typography and narrative.  Fitzpatrick explores the concept of the palimpsest, an early method of recycling surfaces for writing, by layering translucent sheets of paper featuring her distinctive lines of proto-writing; a personal rhythmic mark-making style that resembles both cursive writing and electrocardiogram-like representations of sound or vibration.