Gallery Exhibit: Lory Ivey Alexander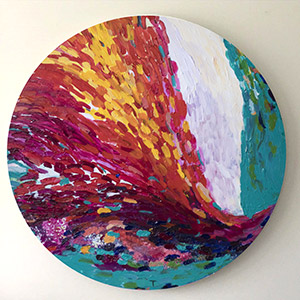 September 10 ­– October 26
Intergenerational relationships and collective memory are central to this body of abstract paintings. Using bright, fluid colors and Alma Thomas's signature paint stripe as a universal mark, this work explores the ancestry of art in Washington, D.C. and the relationships between the artist and her foremothers. The bright colors and sculptural paint build a visual tapestry symbolizing the bonds between generations.
Lory Ivey Alexander is a process-driven multidisciplinary mixed media artist exploring history, memory, and identity. Her layered, textural paintings and sculptures are constructed using traditional fine artist materials and found objects. She is particularly interested in exploring stories that have been deemed unfit for retelling. Using abstraction, paper and fabric collage, and prose, she facilitates meditations on the richness of American identity, drawing especially from the stories of her own ancestors in Virginia, North Carolina, Mississippi, and Louisiana. While completing her Bachelor of Arts degree in English Literature and Africana Studies at Tufts University, Ivey Alexander studied painting through a partnership with the School of the Museum of Fine Arts, Boston. She also earned a Juris Doctorate from Howard University. She is the founder of Abstract Sisterhood, a visual blog and artist collective that supports and promotes women artists of the African Diaspora, especially those working in abstraction and conceptual art. She is a founding member of the Sidwell Friends School Black Alumni Alliance. Born in Washington, D.C., where she works and lives, Ivey Alexander is a second generation visual artist.
Buchanan Partners Art Gallery exhibitions are free and open to the public Tue. -­ Sat., 10 a.m. to 6 p.m. and two hours before each performance.